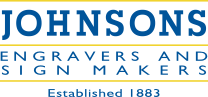 Unit 6 Whitehall Trading Estate
Ashfield Close
Leeds
LS12 5JB

Our company specialises in the engraving of embossing dies, plaques, labels and signs. It produces signs and printed vinyl's e.g. logos and labels.
We have in recent years invested in laser engraving, which has become one of our most frequently used services
The impact of laser engraving has been more pronounced for specially-designed "laserable" materials. These include:-
Anodised Aluminium
Acrylic
Granite
Marble
Slate
Wood
Fleece Jackets
Leather

Embossing/Debossing is suitable for marking thin sheets of material such as aluminum, brass, copper, stainless steel, tin, etc. Johnson's have the capability to take your logo and create embossing/debossing dies that you can use to leave a long lasting impression on your product.

Our industrial engraving capabilities are huge as we have a very large selection of machines of which we have been using for years.



We can provide stamps and marking devices.





Johnsons Signs & Engravers
Workshop:
Unit 6 Whitehall Trading Estate
Ashfield Close
Leeds
LS12 5JB
Tel: 011 32796500
Fax 011 32798700
Please Send All emails to :
sales@johnsonsengravers.co.uk